We just celebrated Labor Day which to some is the official end of Summer.  No better way to get over the end-of-summer blues than to start planning for the next season!  Although it was EXTREMELY hot here in Kansas City this weekend, I started pulling out all my fun Fall decorations and putting them out.  That process got me motivated to do a bit of freshening up and deep cleaning.  No more worrying about the "pop in" because, for today at least,  my house is guest ready!
Another reason to smile about the loss of Summer?  The 2014 Stampin' Up! Holiday Catalog went live on August 28th!  It is chock full of great stuff to make your holiday gatherings, greetings and decorating awesome!  Follow the link in the side bar of this post to view a full-color PDF copy of the catalog.  If you would like to get your hands on a paper copy I would be happy to send you one.  Just email your request to me:  Leslie@theplaidpoodle.com.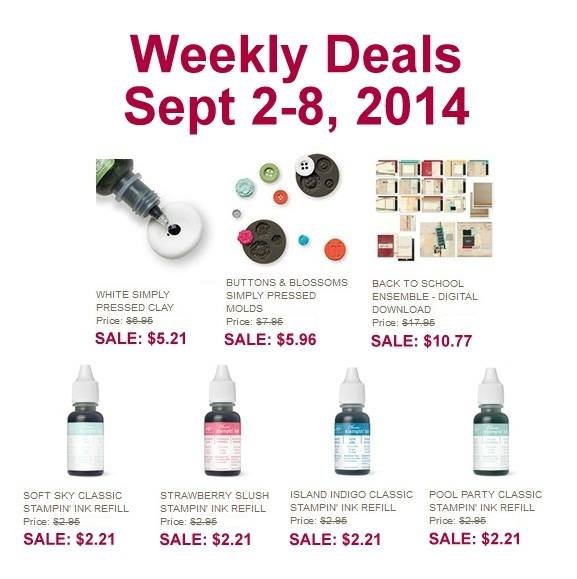 Click on the Weekly Deals photo above to shop for this week's specials!
BACK TO SCHOOL ENSEMBLE – DIGITAL DOWNLOAD
Price: $17.95 $10.77
BUTTONS & BLOSSOMS SIMPLY PRESSED MOLDS
Price: $7.95
$5.96
ISLAND INDIGO CLASSIC STAMPIN' INK REFILL
Price: $2.95

$2.21
POOL PARTY CLASSIC STAMPIN' INK REFILL
Price: $2.95

$2.21
SOFT SKY CLASSIC STAMPIN' INK REFILL
Price: $2.95

$2.21
STRAWBERRY SLUSH CLASSIC IN COLOR STAMPIN' INK REFILL
Price: $2.95

$2.21
WHITE SIMPLY PRESSED CLAY
Price: $6.95

$5.21