Sorry I haven't posted in a while.  After a couple weeks of not feeling very well I finally broke down and went to the doctor yesterday.  Two prescriptions later I am feeling a little better this morning.  Do you ever keep waiting to feel better and then forget how better feels – lol!  I think that is where I was at when it dawned on me yesterday that I was tired of feeling sick and tired and maybe there was something I could do about it.
Even though I have been pretty sluggish this week I was able to do a little creating.  Here is a card that I made for a Stampin' Up! Group Meeting I'm attending on Saturday.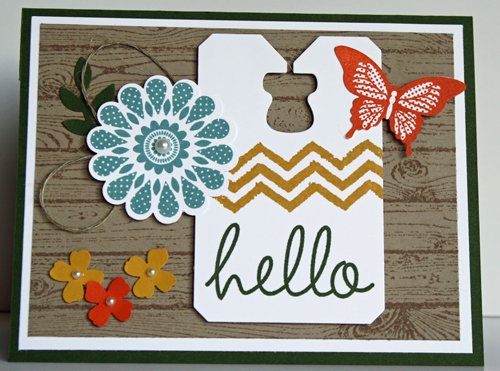 Not knowing how it would turn out I wasn't too thrilled about this card at first.  When I finished it however it became one of  my new favorite cards!  I love how all the elements when put together make this a WOW card!  The colors used are the new Stampin' Up! In-Colors – can't get enough of them!  Also, the more I use the Hardwood stamp the more I like it.  The stamp really adds a lot of depth to this card.  The tag, which takes center stage, is a Framelit from the Chalk Talk Framlit Dies.  Stampin' Up! is currently running a promotion for the Big Shot Die Cutting Machine.  If you're interested see all the details HERE.
I would be happy to share the Project PDF for this card with you.  Just sign up for my e-mail list.  If you are already on my list send me a quick email requesting the "Hello" card PDF.  My email is Leslie@theplaidpoodle.com