I have been paper crafting since 1995 and have tried a lot of different ways to organize my card stock and papers.  8-1/2″ x 11″ paper is pretty easy to contain using items found in the office supply departments of any big box store.  Stacking paper trays are a relatively inexpensive choice if you have the space and can keep the papers out of direct sunlight to avoid fading.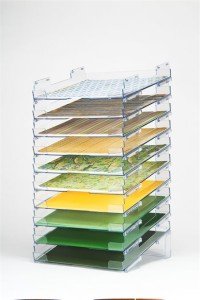 Because my craft space is shared with a common living area in our home I like to keep my card stock out-of-sight but handily available at the same time.  This is how I am currently storing my 8-1/2″x 11″ card stock: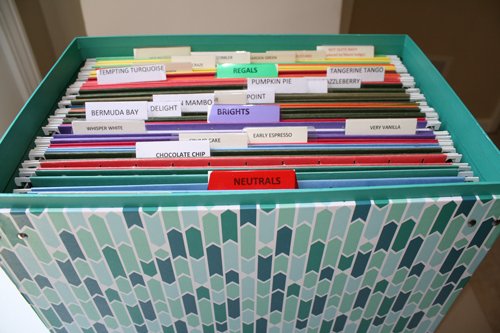 8-1/2″ x 11″ Stampin' Up! Card Stock Filed by Stampin' Up! Color Collection
I found this cute little file storage boxes at Target.  I bought up several along with coordinating accessories at the same time because Target  refreshes their inventory often and it is hard to find matching items later.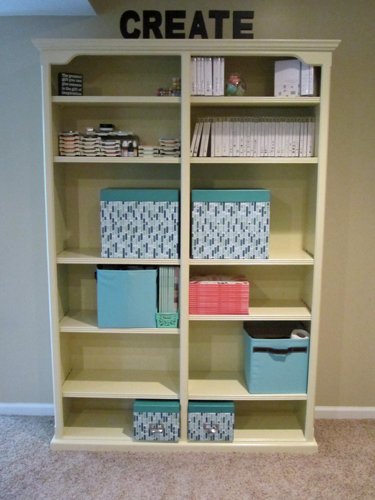 Here are the file boxes on the open shelves that house a lot of my paper crafting supplies.  I wish I could tell you that the shelves look this good today but I can say that they are still organized and functional if not as neat, tidy and empty!  The file boxes look cute and are easy to tote over to my workspace when I'm creating.
Storing 12″ x 12″ card stock and papers gets a little trickier.  You can purchase stacking trays but usually need to go on-line to find them and they are not as inexpensive as the 8-1/2″ x 11″ size.  For several years I used these to store my 12″ x 12″ card stock: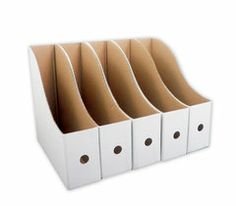 I'll be honest, this method frustrated me A LOT!  I stored the card stock side-by-side using the Roy G Biv color coding system for solids and sorted patterned paper by collection.  This system was hard for me to maintain and return papers to the proper spot.  Also, the papers would wrinkle and curl at the edges.
When I became a Stampin' Up! Demonstrator I began storing my 12″ x 12″ card stock and designer series papers in large zip-lock bags by color collection like this: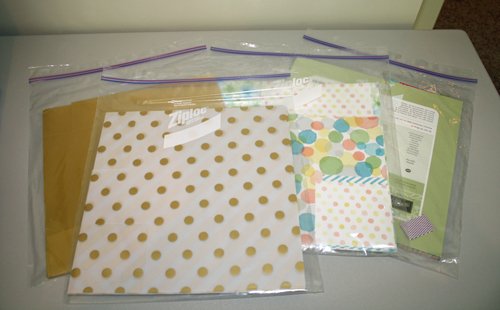 This worked fine and kept the card stock in good shape but was still a hassle to find what I was looking for or to know what I had.  The hanging file storage was working so well with the 8-1/2″ x 11″ card stock that I decided that would be the best way to go with the 12″ x 12″.  Yesterday, while at Hobby Lobby I found this: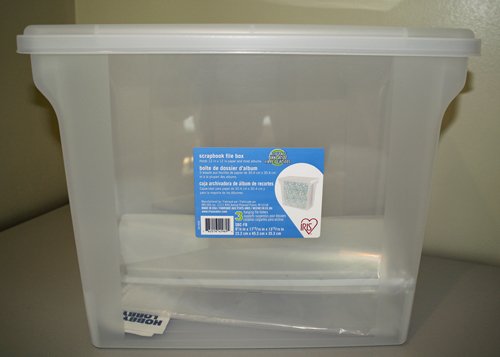 Scrapbook File Box by Iris
Eureka!  This Scrapbook File Box by Iris holds 12″ x 12″ paper and came with three acid free file folders.  I was able to use my 40% off coupon so triple word score!  Because Hobby Lobby only had one on the shelf I headed over to Michael's.  Michael's did not have the file box but did have packages of the hanging file folders so another coupon later I am well on my way to a system that I like.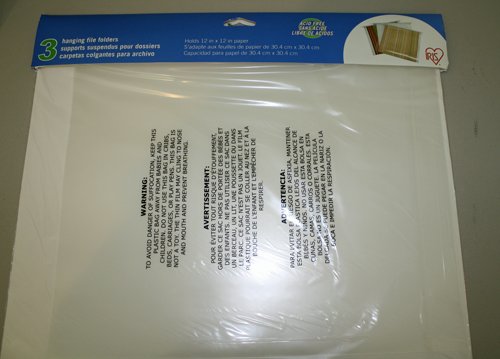 My next organizing project involves a solution for my punches.  This is how they are currently stored:

Looks tidy enough but there are punches behind punches that can't been seen and consequently are forgot about.  It's also difficult to pull a punch from the bottom of a stack without upsetting the whole system.  I would welcome any and all suggestions!  How do you store your punches?