Because June's in-studio Stampin' Style class coincided with the release of the new Stampin' Up! Annual Catalog a party was in order!  The party's them was Amped-Up Stamp Camp.  I designed these postcards at canva.com for the invitations.  If you want to get technical it is a circus tent but remember this camp was Amped-Up!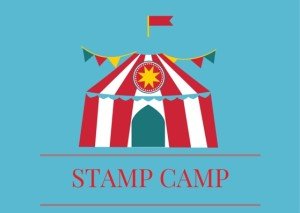 Stampers were welcomed to camp and greeted by this adorable banner that I created using the Chalkboard Banner Simply Created Kit.  It made for some cute photo booth pics!  The Chalkboard Banner kit is now retired but Stampin' Up! has a new Build a Banner Kit to replace it.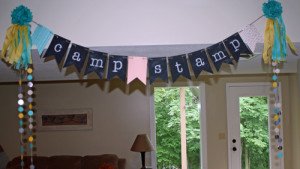 The camp theme carried over to the refreshment table.  We didn't roast marshmallows but we did enjoy delicious Oatmeal Cookie S'mores Gooey Bars.  Buttery, chocolatey, gooey goodness in a bar!  I found the recipe over here on Chelsea's Messy Apron.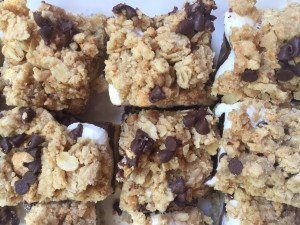 You can't have camp without roasting something on a stick over an open fire right?  I was unable to get away from the idea of food on a stick and settled for fruit kabobs!  And, because we needed to keep our energy up, I fancied up a tin can then filled it to the rim with Monster Trail Mix.
I think Amped-Up Stamp Camp was a success!  Comments overheard:
"I am having such a good time coming to your classes.  Good therapy for me."
"I really love to come – so much fun for me!"
"This was fun.  I need to be more intentional and take time for myself more often."
We made four gorgeous cards and a bonus 3-D project.  Every camper received a cute book mark slipped inside their copy of the new catalog.

There was a "sack race" with a prize for the winner at the end of class and there was also a drawing for this set of five cards with matching envelopes using the new Stampin' Up! In-Colors, the You've Got This stamp set and the new Envelope Paper.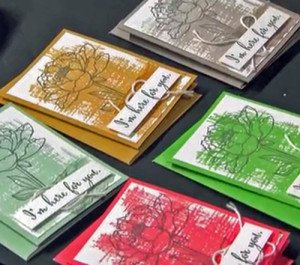 I'm already working on next month's class.  Think sun screen and flip-flops.  If you're in the Kansas City area I would love to have you stamp with us!  Email me for more information:  Leslie@theplaidpoodle.com  In the mean time make sure you click on the link to the new catalog and check out the new stuff!!!