Last night I had the opportunity to participate in the Queen Bee Girls Night Out event at the Zona Rosa Town Center in my community.  Such a fun evening full of music, food and shopping!  Here is a photo of me with my table.  I apologize for the quality of the photo but the lighting was not the best.  The table appears to be a hot mess but up close and personal I think it was presentable – lol!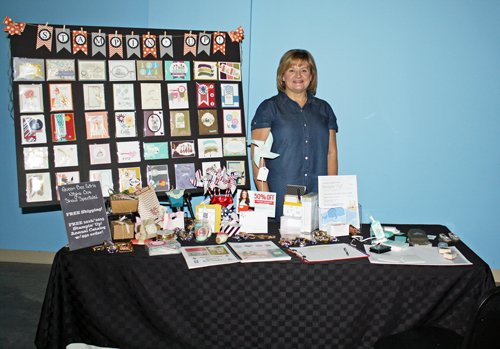 Guests who stopped by the table were able to make this cute little tag.  We used a stamp from the Work of Art stamp set creating an ombre effect by using the stamping off technique (a fancy term for stamping off on scratch paper before stamping onto project – lol!).  I absolutely love the Work of Art stamp set and use it a lot!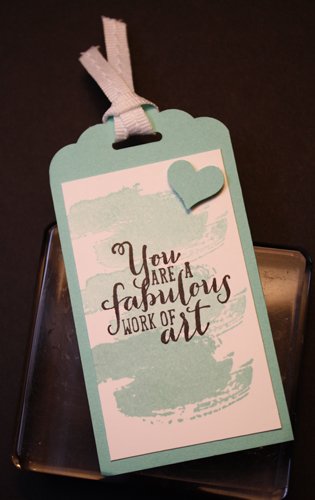 What Girls Night Out is complete without prizes?!  Each vendor supplied a gift to be raffled off.  There are so many beautiful products in the Stampin' Up! Catalog I just couldn't decide so my donation to the event was the catalog along with a gift certificate.  I'm so excited to see what the winner chooses!
As a show special I am offering FREE shipping for all orders placed by Monday, August 4, 2014 at 10 AM.  To receive FREE shipping you must place your order with me directly.  For FREE shipping email your order to Leslie@theplaidpoodle.com with your contact information.    If you have any questions or need help with your order please do not hesitate to email me with your contact information.  My email is leslie@theplaidpoodle.com