Monday night,  Stampin' Up! Demonstrators had the privilege of attending the first ever Stampin' Up! Catalog Premiere event in theaters across the United States and Canada.  I was one of the lucky ones who attended the event in Kansas City!  Can you pick me out in the photo below?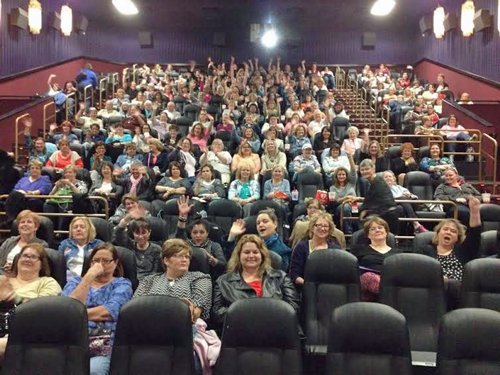 It was so much fun to see previews and demonstrations of several upcoming products.  And no one left the theater empty handed – we all received a brand spankin' new stamp set along with the star of the evening – hot off the press – the 2014/2015 Annual Stampin' Up! Catalog!
Here's how I've spent several hours since:
How can you get your hands on a catalog?
Demonstrators can order catalogs on May 1st.  I will be shipping them out as soon as I receive them.  If  you're a Plaid Poodle Preferred Customer you will automatically receive a FREE 2014/2015 Annual Catalog (shipping included) by June 2.  You are a Plaid Poodle Preferred Customerif  you've placed an order with me during the last 12 months.  No need to contact me unless you don't receive your catalog by June 2nd.  If you are not a preferred customer of mine and would like a FREE Catalog I just ask that you pay the Priority Mail Shipping Fee.  Use the sign-up box below to request your FREE 2014/2015 Stampin' Up! Catalog then click on the Buy Now button to pay for shipping .  Once your  shipping fee is received we'll ship your catalog to you ASAP! (US orders only please.)


$5.60

2014/2015 Stampin' Up! Catalog