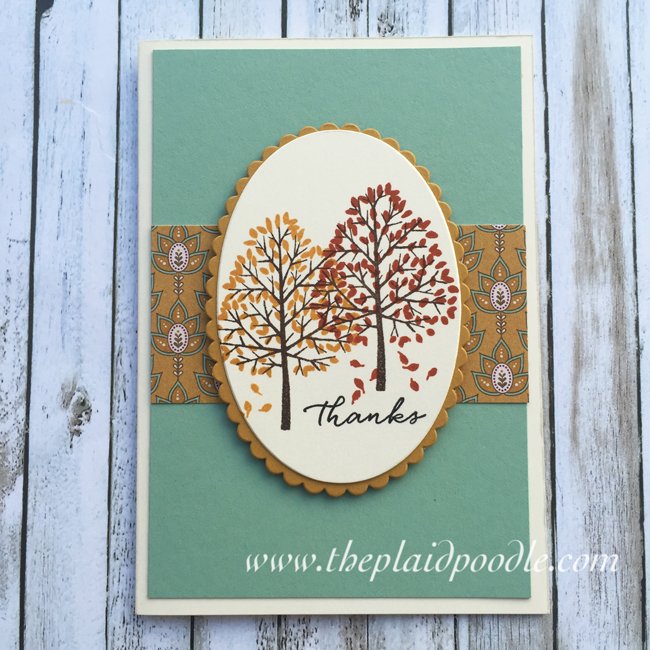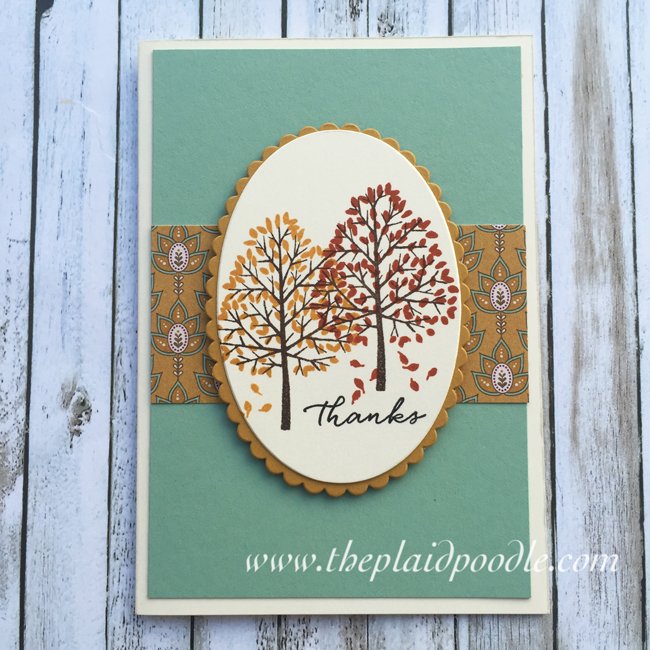 Someone needs to alert Mother Nature that tomorrow is the first day of fall because it was 94 degrees in Kansas City today! Add the heat index to that and I think it was something link a jilllion and ten outside!  Don't get me wrong; I dearly love summer, especially after a long grueling winter, but fall must be my spirit season because a perfect day to me is a sunny, 72 degree day with ZERO percent humidity!  I hope I don't offend, but humidity has to be from the devil!
My card today however doesn't care what temperature it is outside.  It's just busting with autumnal mood and color!  I used the Stampin' Up! Totally Trees stamp set to create this card along with the Chocolate Chip, Delightful Dijon and Cajon Craze inks.  The inspiration behind this card was the little scrap of Petals and Paisleys Specialty Designer Series Paper.  I absolutely love that paper and only had a few snippets left so I used the left-over scraps to whip up a few of these adorable note cards.
Here's a quick video tutorial for the card.  If you enjoy it why not slip over to Youtube land HERE and leave a comment?  While you're there make sure to subscribe to my channel to receive upcoming videos.  Thanks!
Cardstock Dimensions:
Very Vanilla 5″ x 7″ scored at 3-1/2″, 3-3/4″ x 2-1/2″
Mint Macaron 3-1/4″ x 4-3/4″
Petals & Paisleys Specialty Designer Series Paper 3-1/4″ x 1-1/2″
Delightful Dijon 3-3/4″ x 2-1/2″
Product List