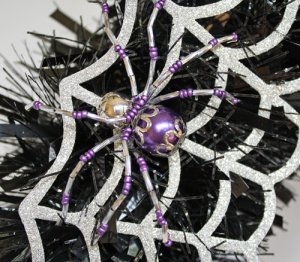 We're entering that Bootiful time of the year when I like to pull out my Halloween decorations.  This wreath was assembled in about 30 minutes using Stampin' Up!'s Frightful Wreath Simply Created Kit and the coordinating stamp set Frightful Wreath.  I love the bling of the beaded spider – so cute!  The 17″ wreath is perfect for hanging on a door, window or a mirror but I wanted to place it on my entry table and after seeing this pin on Pinterest I decided to get my power tool self on and assemble my own wreath stand.
The materials for the wreath stand are simple and inexpensive.  I found everything I needed at Hobby Lobby or in our garage and probably invested less than $5 .  Here are the materials needed: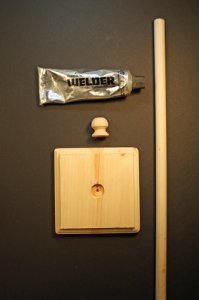 5/8″ Dowel Rod
5″ x 5″ Wooden Base
1″ Wooden Doohickey for the top of the stand
Extra-Strength Adhesive
Small Flat Head Screw (not shown)
Small Cup Hook (not shown)
Flat Black Spray Paint (not shown)
First I cut the dowel rod 20-inches long using a small saw.  Then I drilled a hole in the base to place the dowel rod. ( I would recommend a drill bit the same size as your dowel but since we didn't have a 5/8″ bit mine was slightly larger than the rod.)   Next I  placed the adhesive into the drilled hole and set the dowel into it.  The topper doohickey was glued on at this time as well.  After letting the adhesive dry overnight, to give the stand a little more stability, I decided to drill a flat head screw through the bottom of the base.  If your drill bit is the same diameter as your dowel this step is probably not necessary.  After spray painting the stand flat black and letting it dry completely  I added a small cup hook to hang the wreath on.
Without counting drying time it probably took me about an hour to assemble the wreath stand.  I'm really happy with the results and it was so easy to make I'm thinking maybe a gold one for Christmas decorating is in order!